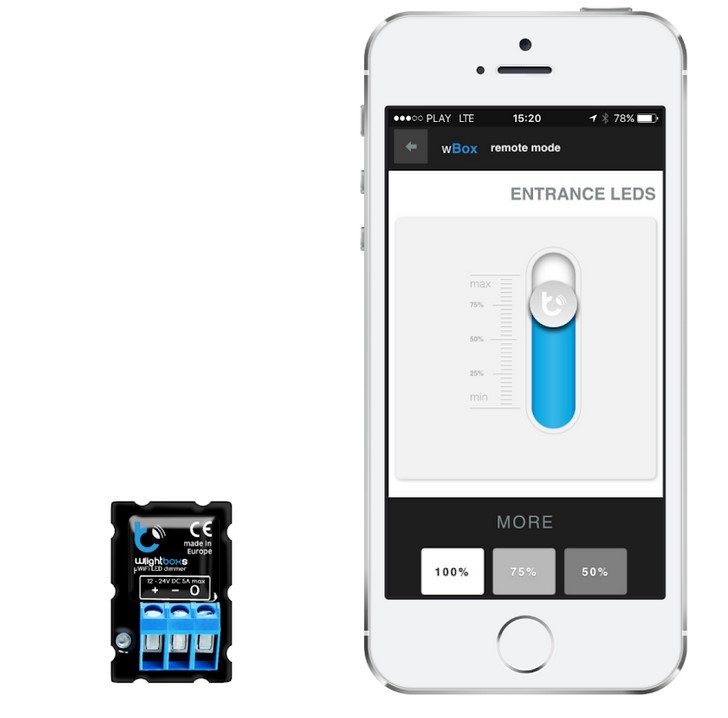 (phone not included)
The LightboxS is the world's smallest LED Strip Dimmer. Being the size of a Postage Stamp it can be easily accommodated into any installation.
It is designed to control any Single Colour 12/24vdc Light Source such as our LED Strip
Fitting is simple, just add it between the 12vdc output of the Power Supply (Transformer) and the 12vdc Input, the Light Source.
The Power Supply (Transformer) can be wired to a Wall Light Switch (by an Electrician), providing On/Off control from the switch, with the additional dimming control from a Tablet or Smartphone.
Multiple LightboxS boxes can be controlled from a single APP or over the Internet. Download the WBox App (below)
Compatible with:
Apple iPhone
Apple iPad
iPad Mini
Android
Windows Phone
Scan codes below to get the free wbox App
Click below for instructions on setting up Amazon Alexa
Electrical parameters
Supply voltage: 12 - 24V
Energy consumption: < 1W Max current 5A Max voltage 12 - 24V DC
Output:1
Max load: 120 W Output type open drain, PWM, low side control colour mode MONO Physical characteristics Dimensions 35 x 24 x 15 mm Protection level IP20
Housing: made of polyurethane composition not containing halogens, self-extinguishing for Thermal class B (130 °C)
Mounting: in the flush-mounted box, on the lamp housing, directly connected to the LED strip, e.g. furniture protection inverted polarization, ESD Communication Standard μWiFi, compatible with WiFi Frequency 2.4 GHz
Transmission: bidirectional, encrypted
API: open Mode direct connection (as Access Point), Wi-Fi connection via a standard router, connection with access from any location in the world (requires only access to the Internet)
Compatible devices:Apple iPhone, Apple iPad, iPad Mini, Android, Windows Phone, computers and mobile devices operating a fully HTML5, Apple Watch support coming soon.