More info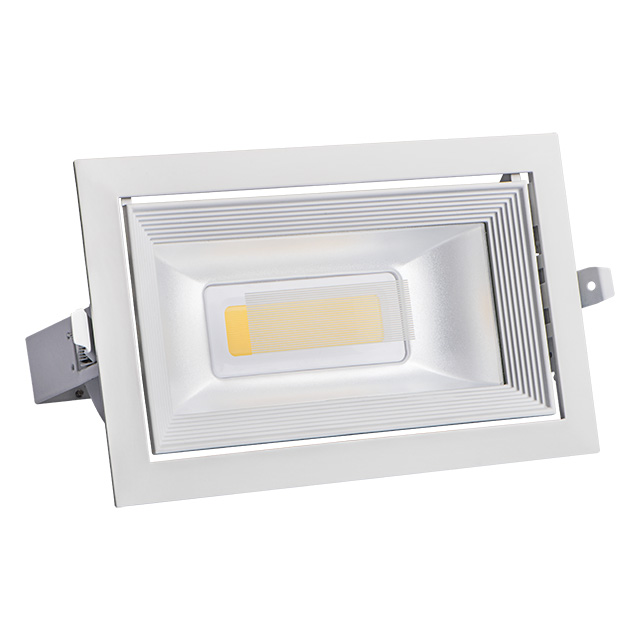 The MISTRAL MCOB 30W-NW. This energy efficient solution is based on the MCOB LED composite diode module with a power value of 30W.
The fixture has a high luminous flux of 2150 lm at a 105x120 ° beam angle. The high quality LED MCOB module that is used in it, causes that its durability is estimated at 30000h, which enables maintenance-free operation for many years.
The MISTRAL MCOB 30W-NW fixture is available in a neutral (NW) light colour, which allows for accurate colour representation of illuminated materials and objects (Ra> 80).
The fixture design enables basic interior lighting, and by adjusting the lighting direction it also enables excellent lighting of selected places (walls, shelves, displays) - the tilt angle of the fixture is up to 60 degrees. What's more, the system can be connected to motion sensors and illuminate selected spaces or exhibitions only when someone is in the room. This type of installation allows for significant energy savings, as can also serve as a "guide" in the illuminated interior. This is a significant advantage over similar fixture designs with metal halide sources.
The new products can be used for both general lighting of exhibition spaces, as well as for illuminating shelves and all kinds of exhibitions. MISTRAL MCOB 30W-NW fixtures, thanks to high parameters, enable an effective modernisation of lighting and significantly reduce energy costs.
Product features:
power supply: 220-240 V~; 50/60 Hz
light source: LED MCOB
power: 30W
luminous flux: 2150lm
Ra≥80
colour temperature: Tc: 4000-4500 K
light beam angle: 105x120 °
directing light by tilting up to 60 °/p>